Show120
<< Violent Vest | Episodes | Duplicate Daughter >>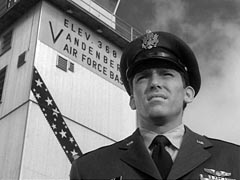 #120: The Case of the
Misguided Missile
Original Airdate: 05/06/61
From The Perry Mason TV Show Book
Perry takes a step into the space age in this episode. He is called on to defend an old war buddy who is accused of killing an officer at Vandenberg Air Force Base during the investigation of some mysterious missile crashes.
In this show, Perry reveals that during World War II, he served, with the defendant, on a U.S. Navy minesweeper in the South Pacific.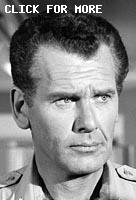 Opening
Starring Raymond Burr
in The Case of THE MISGUIDED MISSILE
Based Upon Characters Created By Erle Stanley Gardner
Barbara Hale as Della Street
William Hopper as Paul Drake
Ray Collins as Lt. Tragg
Trailing
Directed by John Peyser
Written by Sol Stein and Glenn P. Wolfe
Arthur Marks | Producer
Gail Patrick Jackson | Executive Producer
Produced by The CBS Television Network in association with Paisano Productions
Jackson Gillis | Story Consultant
Raymond Burr as Perry Mason
Barbara Hale as Della Street
William Hopper as Paul Drake
Ray Collins as Lt. Tragg
Cast
Bruce Bennett as Dan Morgan
Jeanne Bal as Helen Rand
Simon Oakland as Captain Caldwell
Robert Rockwell as Major Jerry Reynolds
Richard Arlen as Dr. Harrison
William Schallert as Dr. Bradbury
Med Flory as Captain McVey
George Neise as George Huxley
Stephen Roberts as Major Cooke
Richard Shannon as Colonel Sloan
Ronnie Knox as Sgt. Lewis
Larry Gray as Brig. Gen. Bishop
Clark Howat as Lt. Col. Fremont
Alan Dexter as Dr. Stanton
Paul Lees as Air Policeman
James Sikking as Civilian Engineer
Crew
Production Supervisor … Dewey Starkey
Director of Photography … Frank Phillips, A.S.C.
Art Direction … Lewis Creber
Assistant Director … Morris Harmell
Film Editor … John D. Faure
Casting … Harvey Clermont
Makeup … Irving Pringle
Hair Stylist … Annabell
Wardrobe Supervision … Ed McDermott, Evelyn Carruth
Set Decoration … Charles Q. Vassar
Sound Effects Editor … Gene Eliot, M.P.S.E.
Music Editor … Gene Feldman
Properties … Ray Thompson
Production Sound Mixer … Herman Lewis
Script Supervision … M.E.M. Gibsone
Sound … Glen Glenn Sound Co.
Titles and Opticals … Pacific Title
Perry Mason \ A Film Presentation
A CBS Television Network Production
Old-time silent star Richard Arlen makes his only appearance on Perry in this episode playing Dr. Harrison. Richard Arlen co-starred in the 1927 production of Wings, the first movie to win an Oscar for best picture. Submitted by PaulDrake33.
Bruce Bennett (Dan Morgan) makes this a classic Hollywood star feast! An Olympic shotputting champion, he was cast by MGM to star in Tarzan the Apeman (1933), under his birth name, Herman Brix. He broke his shoulder filming a football movie and was replaced by Johnny Weismuller (Olympic swimming champion!) Tarzan author Edgar Rice Burroughs then teamed up with another investor to produce his own Tarzan movie--one that would accurately portray the character's dual nature, ape man and sophisticated English gentleman. Brix was their choice. Lots of fascinating (mis)adventures involved in shooting it in Guatemala. It was released as THE NEW ADVENTURES OF TARZAN in both serial and feature form. As Bennett, the actor was in a good number of film noir and detective films, and it's wonderful to see him, more than once, turn up on PM. He passed away at the age of 100. Submitted by JazzBaby, 9/8/2019.
Jeanne Bal makes her first of four appearances on Perry Mason. Her most famous role may have been as Nancy Crater on the first Star Trek episode to air, "Man Trap." Posted by Kenmore, 12/13/2009.
Star Trek Alert: Not just Bal, but two other actors in this episode will appear in Star Trek roles. William Schallert (of The Patty Duke Show fame), was in the original series Star Trek episode "The Trouble with Tribbles." He also had a role in Star Trek: Deep Space Nine. Schallert appeared in three Perry episodes. James Sikking (the Civil Engineer Bert Springer) got to command the starship Excelsior as Captain Styles in the movie Star Trek III: The Search for Spock. This was his only Perry apparence. Submitted by MyFavoritePolarBear, 1/24/23.
Location: There are some great shots of the Vandenberg Air Force Base in this episode. Submitted by gracep, 11/16/2010.
Although listed in the credits, neither Della Street (Barbara Hale) nor Lt. Tragg (Ray Collins) appear in this episode. Hamilton Burger (Talman) also does not appear, but he is not listed in the credits. Submitted by gracep, 11/16/2010.
+ MM is the 2nd of Barbara's 11 Credit-Only Perrys. She "began her professional career as a model for a comic strip called 'Ramblin' Bill,'" IMDb Bio notes. Mike Bedard 3.18.15.
+ When Talman was rehired, his new contract stated that he would only be credited for those episodes in which he appears. Submitted by vgy7ujm 9/17/2020
Character Names: Capt. Caldwell's first name is Mike. The Civilian Engineer is Burt Springer (and his name is used more than once). Dr. Stanton's first name is Richard. Submitted by gracenote, 7/10/2011.
CARS. (1) Helen Rand's medium-color 1961 Buick Electra 225 Convertible, top down. Same car appeared in ep#s 115 & 118.
Numerous USAF vehicles are seen around the Base:
Body molding on the USAF Crew Cabs matches the standard 1960 Ford F-Series. These Crew Cabs are unusual in that the Big Three automakers did not offer Crew Cabs for general sale until years after this episode aired. They were, however, available as special orders from specialist truck cab manufacturers. Use the "Previous Photo" button here to reveal the Manufacturer's Plate indicating that the Crew Cabs in this episode were very likely produced by Orville Body Co./Orrville Metal Specialty Co. of Orrville, Ohio. Today these trucks are rare. Added by Gary Woloski, 11/23/12.
Continuity Error: The rocket we see being erected at the launch pad does not seem to be the same one we see being launched (unsuccessfully) shortly thereafter. Submitted by 65tosspowertrap, 9/30/2013.
Viewers will remember William Schallert as "Patty Duke's" dad on The Patty Duke Show. - Submitted by HamBurger 09/21/2014
Out of town: This was the second story of the last four without any scenes in Los Angeles. Submitted by H. Mason 11/10/14
Military Court: This was Perry's third case defending a member of the armed forces. The others were episode 43 (Army) and episode 92 (Navy). Submitted by H. Mason 11/10/14
Air Force: Perry and Bruce mention an Air Force/Navy assault on the O'club in 1944. There was no Air Force in 1944. The Army Air Corp was part of the Army. The Air Force was created in 1947.
+ Perry arrives first in an Air Force T-29 that was used to train navigators. It is the civilian version of the Convair 240. American and Western Air Lines used then in the late 40s and early 50s.
++ Colonel Sloan and Captain Caldwell arrive on the T-29, not Perry.
++ The second time that Perry arrives is is on a C-47B. It is the military version of the Douglas DC-3. It was produced in the late 30s and mid 40's. That tail number was manufactured in 1945 along with a dozen that were sold sold to the USSR (they were briefly our friends). Bill767, 1/6/16
The Case of the Veteran Victims? For the first and only time in his five series appearances, actor George Neise does not play the murder victim. He gives way to another "veteran victim": Simon Oakland, who played the victim in both of his Mason appearances.
Also, about a decade and a half after this episode aired, Simon Oakland again assumed victim status in the Ellery Queen TV series episode entitled "The Adventure of the Pharaoh's Curse." This EQ episode should not be confused with the 1957 grade-Z horror movie "Pharaoh's Curse," which included . . . George Neise (who, of course, did not survive the final credits) in its cast. Submitted by BobH, 25 August 2016.
This is the second of two PM directing credits for John Peyser. Both episodes aired in 1961...MikeM. 9/15/2016
This is the only PM appearance for Stephen Roberts, who would later play President Franklin Roosevelt in two different television productions...MikeM. 12/22/2016
This is the first of two PM appearances for Med Flory, who was a pilot during World War II...MikeM. 9/21/2017
+ Interestingly, Med Flory's second Perry appearance in episode 128 "The Case Of The Crying Comedian" has him again portraying a chardacter named 'McVey'. jfh 23Jan2018.

This is the second of five Perry appearances for Bruce Bennett who, of course, played opposite Joan Crawford in Mildred Pearce. Mr. Bennett lived to be 100 years and 9 months old! jfh 08Feb2019
James Sikking makes an early career(and only PM) appearance as civilian engineer Bert Springer. You make recognize Sikking from "Hill Street Blues" as SWAT Lt. Howard Hunter, or from "Doogie Howser, M.D." as Dr. David Howser, Doogie's dad....BobB, 9/22/2017
Comments

Edit
In the first scene we see with Perry, he mentions a past experience to Maj. Reynolds on "Ulithi." Reynolds replies about "raiding a bar on Mogmog." Ulithi Atoll was an important US Naval base during WW2; it was occupied by US forces in late 1944 and served as an important staging area. Mogmog was one of the larger islands, and it did have a bar where sailors could purchase (with special tickets) room-temperature beer. Posted by Kenmore, 12/13/2009.
Med Flory - Captain McVey in this episode - plays police Sgt McVey in The Case of the Crying Comedian.
Captain Caldwell is out of uniform - no name badge. And Perry wears a striped shirt - never seen that before. DOD 10/29/20
William Schallert has a small role in that great 1954 sci-fi movie "Them!" Among his fellow actors - our favorite PM judge Willis Bouchey; future Mr. Spock, Leonard Nimoy; future Matt Dillon, James Arness; future Daniel Boone, Fess Parker; and Richard Deacon of "Leave it to Beaver" and "The Dick Van Dyke Show". DOD 10/16/19
When we see the first rocket being launched, there is an odd lopsided appearance to the exhaust flame. Perhaps this was due to a malfunctioning rocket motor and led to the failure of the launch. The second (allegedly successfull)rocket shows the same anomaly. Indeed, as far as I can tell, it is the same footage as the first launch, only stopped before the failure. Submitted by 65tosspowertrap, 9/30/2013.
+That is a classic Atlas rocket. The lopsided part of the plume is the exhaust from the turbopump. Modern rockets feed the pump exhaust into the combustion chamber, so their exhaust is not lopsided. Submitted by vgy7ujm, 10/16/2014.
++The 2 Sub-Orbital Mercury flights used Redstones; the 4 Orbitals used Atlases [pao.ksc.nasa.gov/...mercury/flight]. Mike Bedard 3.15.15.
It seems odd that the range safety crew that found the body didn't have radios with which to alert launch control in time to stop the launch. Submitted by 65tosspowertrap, 9/30/2013.
I also find it hard to believe a husky guy like Caldwell could be killed with a flashlight. DOD 10/15/19
+ There was also a large rock involved. vgy7ujm 09/17/20
Is this the only Perry Mason episode without Burger, Tragg, and Della? Submitted by 65tosspowertrap, 10/1/2013.
+ Well wouldn't you know it? I just saw episode 163--TCOT Lurid Letter--and there was no Burger, Tragg, or Della in that one either! And Robert Rockwell was in both episodes! Submitted by 65tosspowertrap, 10/1/2013.
It looks like Captain McVeigh never gave Paul and Perry their ID badges. Submitted by vgy7ujm, 10/16/2014.
Miss/Ms.: Again, the closed-captioning translates Miss into Ms. twice when Capt. Caldwell addresses Helen Rand and once when Huxley calls her "Miss Arrange-It-All." Submitted by Wiseguy70005, 10/18/14.
Where are the women?: Helen Rand was the only female character in the story (unless you count the extras in the bar scene). Submitted by H. Mason 11/10/14
The 1st of the Space-oriented Perrys, Misguided Missile aired 1 day after the 1st Mercury mission on May 5, 1961, when Alan Shepard made a Sub-Orbital flight in Freedom 7. Five others followed in Liberty Bell 7, Friendship 7, Aurora 7, Sigma 7 & Faith 7 which coincided with the May 16, 1963 airing of TCOT Witless Witness [pao.ksc.nasa.gov...mercury/flight]. Mike Bedard 3.14.15.
A book entitled 'The Rocket Men' gives great detail into the difficulties the US went through to get rockets to fly .. as Mr. Spock would say of it, "Fascinating." As a side note, seeing William Schallert's character pull a bottle out for a quick nip, without much more than a stare from another character, reminds me how times have changed ... anyone doing that would be on their way to some sort of rehab, at a minimum, these days. I'd say that was one thing that IS better about now, as I've seen men drink themselves out of jobs, into bad injuries and even, literally, to death because they couldn't control their drinking .. Submitted by MikeReese, 12/11/2015

The cigarette butts in the ashtray in George Huxley's hotel room are Parliament cigarettes. Otto Gervaert, 11/15/2021
<< Violent Vest | Episodes | Duplicate Daughter >>