Show155
<< Bogus Books | Episodes | Playboy Pugilist >>
#155: The Case of the
Capricious Corpse
Original Airdate: 10/04/62
From The Perry Mason TV Show Book
This summary is wrong. Carleton Gage was not murdered, Ernest Demming was. Also, Carleton Gage had no wife or sister-in-law. Claudia and Joane were his nieces, I think. When Carleton Gage lapses into a coma, two of his beneficiaries threaten to close the orphanage he supported. Carleton's wife and sister-in-law plan to keep the orphanage open but their good intentions are complicated by Carleton's murder.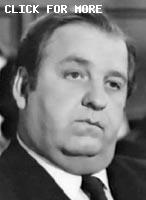 Opening
Starring Raymond Burr
in The Case of The CAPRICIOUS CORPSE
Based upon characters created by Erle Stanley Gardner
Barbara Hale, William Hopper, William Talman, Ray Collins
Trailing
Directed by Arthur Marks
Written by Jonathan Latimer
Art Seid | Producer
Gail Patrick Jackson | Executive Producer
Jackson Gillis | Associate Producer
Samuel Newman | Story Consultant
Raymond Burr as Perry Mason
Barbara Hale as Della Street
William Hopper as Paul Drake
Wiliam Talman as Hamilton Burger
Ray Collins as Lt. Tragg
Wesley Lau as Lt. Anderson
Cast
John Howard as Dr. Guy Omstead
Jacques Aubuchon as George Gage
Lee Farr as Nicholas Blake
Lori March as Olive Omstead
Jan Shepard as Joane Proctor
Jean Engstrom as Claudia Demming
Dennis Rush as Timmy
Evelyn Ward as Nurse Evelyn King
John Pickard as Detective Boykins
Teru Shimada as Ito Kumagi
Willis Bouchey as Judge
June Ellis as Chambermaid
Herbert Patterson as Auto Engineer
Ed Stoddard as Police Chemist
Alex Bookston as Druggist
Richard Geary as Diver
Everett Glass as Carleton Gage
Gilbert Frye as Desk Clerk
John Morley as Ernest Demming
William Hines as Waiter
Uncredited Actors
Sayre Dearing as Courtroom Spectator (from IMDb)
Lee Miller as Sgt. Brice
Crew
"Perry Mason"
Director of Photography … Robert G. Hager
Art Direction … Lewis Creber
Assistant Director … Robert G. Stone
Film Editor … Richard H. Cahoon, A.C.E.
Casting … Harvey Clermont
Makeup … Irving Pringle
Hair Stylist … Annabell
Wardrobe Supervision … Ed McDermott, Evelyn Carruth
Set Decoration … Charles Q. Vassar
Properties … Ray Thompson
Production Sound Mixer … Herman Lewis
Script Supervision … Cosmo Genovese
Automobiles Supplied by … Ford Motor Company
Perry Mason
Produced by the CBS Television Network in association with Paisano Productions
Sightings: "Miss Carmody" appears, dressed unusually spiffy in a gorgeous hat and pearls, in the courtroom gallery. Read more about her and other recurring spectators. Submitted by gracep, 1/8/2011.
+ She also appears, all dolled up, with an escort as she strolls behind Joane Proctor as she makes a phone call. And another courtroom spectator is the Thin Man. Submitted by gracenote, 7/22/2011.
Location: The scene where a lake is being searched for a body was undoubtedly shot at the Los Angeles County Arboretum in the City of Arcadia -- a site for many film and television shoots. The lower archways of the old Queen Anne cottage can be seen in the background. More pictures here and here. Submitted by Fifty-Niner on 19 April 2012.
This episode begins another version of the two-part closing credits seen in the previous season. Now the main production staff and cast is seen in the first half and the rest of the production personnel in the second. As in the previous season the second half begins with the words "Perry Mason" written in quotes. In the syndicated version, the two parts are joined together. Submitted by Wiseguy70005, 7/02/12.
CARS. (1) 1958 Ford Fairlane 500 Sunliner, medium color, black soft-top down, Joane Proctor driving to DORADO HOTEL (10:44).
Background Cars. Parked on roadside as Joane drives in to DORADO HOTEL:
In the view of LOS ANGELES COUNTY COURTHOUSE from across the street @ 34:24:
The courthouse shot, 34:23-34:29, could be from Season 4. Added by Gary Woloski, 6/4/13.
Demming's Dodge [Car (2)]. 1957 Dodge cars came with a 3-speed Manual Transmission or with one of two optional Automatic Transmissions: either the 2-speed PowerFlite or the 3-speed TorqueFlite. The Manual Transmission was "Standard" but 96.5% of 1957 Dodges actually had Automatic Transmissions (ref here, p218). Gear selection was:
for the 3-Speed Manual, by Column-Mounted Lever, the lever being on the Right side of the steering column, just like in the linked image.
for both Automatics, by Push-Button Selector. Demming's dashboard is essentially identical to the linked image. The push-buttons are on Far-Left of the dash, away from unauthorized fingers (on the Left border of the image). The slender lever on the Left of the Steering Column is the Turn-Signal Selector. Under the dash toward the Left is the bright-red parking brake T-handle. The image here shows the Chrysler Corp layout of the five buttons R-N-D-1-2 for the TorqueFlite transmission (PowerFlite had four buttons R-N-D-L).
The story portrays Demming's car as having an automatic transmission, although this is not explicitly stated. The car was manufactured at Chrysler's Los Angeles Plant which Burger, technically correct, refers to as "the San Fernando plant". All I've written here applies equally well to the '59 Dodge, Car(2a), which bravely volunteered for the final plunge shot. Having read this paragraph, you now need to FORGET IT while watching the testimony of "Auto Engineer" who, in court, demonstrates the operation of a car which exists only in the Parallel Universe of Perry Mason. Added by Gary Woloski, 6/6/13.
Auto Engineer (Æ) is introduced to Court by Burger to describe the operation of Demming's car. Æ has with him a functional mock-up incorporating a complete steering column and handbrake actuator, supposedly duplicating the controls of the car in question. Initially, the gear selector lever is set to out-of-gear and the handbrake is applied. Two operations are shown to demonstrate an interconnecting mechanism between the gear selector lever and the "emergency brake" (handbrake):
Æ's Left hand (metal watchband) shifts the gear lever to "in gear", which causes the handbrake to simultaneously and automatically disengage.
Immediately thereafter, Burger (non-metallic watchband) re-applies the handbrake which causes the gear lever to simultaneously and automatically return to the out-of-gear position.
Note that Æ's Gear Selector Lever is located on the LEFT side of the steering column.
As Burger is re-applying the handbrake, the scene concludes with these lines:
Burger: "Then it would be possible for the defendant, having bent over and pulled on the emergency brake, to straighten up and still release it?"
Æ: "Yes, by simply brushing against the gear lever hard enough to put the car in gear."
Burger: "Thank you, sir." - End of scene, no cross-examination!
The whole demonstration is so contrary to Real World, safe automobile design & operation that viewers are bound to be totally confused. But the drama moves on so quickly to the next witness (the Druggist) that viewers don't even have time to think of asking why the Prosecutor would call an Expert Witness to testify so favourably for the Defendant. Added by Gary Woloski, 6/9/13.
Auto Engineer's Prop. The Steering Column and Steering Wheel of Æ's mock-up are those of an automatic-transmission-equipped 1957 Buick. The Column has been rotated 180° on its axis so that the gear selector lever is on the Left and the turn-signal lever is on the Right (ie, it's upside-down). A thorough comparison between the video of Æ's contraption and the '57 Buick interior will confirm that the Steering Columns and Steering Wheels are . Added by Gary Woloski, 6/9/13.
I want to thank GW for his thorough research on all these cars and car issues. --Submitted by 10yearoldfan, 27 August 2013.
All this courtroom business of gear selectors echoes the 1952 film noir classic Angel Face, starring Robert Mitchum and spooky Jean Simmons, where the story turned on expert testimony about whether the the shifter was working properly. JohnK, 3 January 2022.
Crash Consistency: Regarding cars, this episode is one of a few where the car that heads toward the cliff is the same car, more or less, that we see tumble down the cliff. JohnK, 19 January 2016
In the scene where the body is discovered, just after Timmy enters the room, the camera briefly shows the dead body again ... an eye on the body blinks. Submitted by Babo, 1/29/2015
This is the first of four PM appearances for Jan Shepard, who supposedly was Amanda Blake's roommate before Blake got the role of Kitty on Gunsmoke...MikeM. 11/3/2016
This is the only PM appearance for Evelyn Ward, who was married to Jack Cassidy and is the mother of David Cassidy...MikeM. 2/9/2017
Syndicated Cuts from FETV:
04:55 - 05:36 .. 0:41 At Carleton Gage's house, Joane Proctor and Nicholas Blake discuss the future of the foundation
17:27 - 19:24 .. 1:57 At the Dorado Hotel, Joane Proctor and George Gage discuss the missing Ernest Demming
21:10 - 22:01 .. 0:51 In Perry's office, Perry, Della and Paul discuss Ernest Demming's death and the Samurai armor
42:10 - 43:08 .. 0:58 Perry talks with Burger as police search for body in private lake
Total ............... 4:27
Submitted by DexterLakeClub, 02/24/22.
Comments

Edit
Juvenile actor Dennis Rush makes his only Perry appearance here as Timmy. Dennis Rush is best known for his eight appearances as Howie Pruitt, one of Opie Taylor's friends on the long running Andy Griffith Show. Submitted by PaulDrake 33, 24 November 2009.
George Gage says he used to go on picnics at the Palm Room of the Waldorf-Astoria. That would make him about 50 years old. The Waldorf we know today never had a a Palm Room, but the Waldorf it replaced, razed in 1929, did. There was a Palm Court at the Plaza Hotel. DOD 12/17/20
I have been a criminal defense attorney for over 20 years, and NEVER have I heard about a defendant jumping up in the middle of a trial and yelling "That's a lie!" And yet it occurs over and over in PM. Perhaps the most consistently irritating element of these excellent shows. cgraul 12

That staircase set makes at least its third appearance in a row. Why didn't Mr. Gage call Perry himself from the phone in his room?
Is the happy ending really appropriate here? Perry clears his client, of course, but in a way that it seems the inheritance should fall to the loathsome George Gage, who wants to close the children's foundation. So the cheerful softball game at the end here might be out of place! Submitted by Ed Zoerner, 4/25/2009.
To answer Ed Zoerner, George Gage tells us in court that he could not afford to accept the inheritance publicly, because he has promised 150% of it in divorce settlements to his ex-wives. He has no choice but to refuse the estate, and let it pass to Claudia. --Submitted by 10yearoldfan, 27 August 2013.
In the last scene Perry said Joane and Nick would probably get probation. What happened to Dr. Olmstead and George Gage? Submitted by H. Mason 12/15/14 Dr. Olmstead would probably be charged with corpse tampering and obstruction of justice. George Gage committed perjury when he claimed to have seen Ernest Demming at the motel.
I am reminded of the old joke about a woman who wanted poison from her pharmacist to kill her husband. The pharmacist, shocked, refuses, until she shows him a photo ... of his wife in intimate contact with HER husband. He then says, "Oh, that's different then, I didn't know you had a prescription!" Submitted by MikeReese, 2/10/2017.
The idea that someone could swap a corpse tied up in canvas with a suit of armor and NO ONE NOTICE THE DIFFERENCE is beyond ludicrous. And wouldn't the fruit stand man have wondered about that rope and canvas tied around the supposedly ill passenger? This episode really strains credulity. DODay 11/08/17
The body/samurai wrapped in canvas was dumped into the ocean by the Doctor. The body in the car was Nick. Remember (in the scene at the coffee shop) how Nick said he scratched his hand when he jumped out of the car, and Joane had been worried that he had gone over the cliff with the car--until he called her. --Submitted by yelocab 02/02/2018
I agree with DODay (see comment above): Nick didn't notice the difference between a dead body and a samurai statue when he was dumping the "body" into the lake? Unbelievable! Submitted by JazzBaby, 3/18/2019.
TCOT Criminal Clique Five of the six top-listed characters in this episode committed crimes--whew! As far as I can tell, only Claudia did nothing wrong. That's a lot of criminals! Submitted by JazzBaby, 3/18/2019.
Let's see, we have murder, tampering with a corpse, tampering with evidence, extortion, perjury, obstructing justice, forgery, grand larceny - mercy! DOD 01/18/23
<< Bogus Books | Episodes | Playboy Pugilist >>