Show156
<< Capricious Corpse | Episodes | Double-Entry Mind >>
#156: The Case of the
Playboy Pugilist
Original Airdate: 10/11/62
From The Perry Mason TV Show Book (Revised)
Old-time boxing trainer Jimmy West thinks he has finally found his "boy." He believes he can make a champion boxer out of Davey Carroll (played by Gary Lockwood, one of the spacemen in Stanley Kubrick's 2001: A Space Odyssey).
Jimmy's plans go awry when he is framed for murder.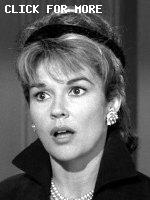 Opening
Starring Raymond Burr
in The Case of THE PLAYBOY PUGILIST
Based upon Characters Created by Erle Stanley Gardner
Barbara Hale, William Hopper, William Talman, Ray Collins
Trailing
Directed by Francis D. Lyon
Written by Helen Nielsen
Art Seid | Producer
Gail Patrick Jackson | Executive Producer
Jackson Gillis | Associate Producer
Samuel Newman | Story Consultant
Raymond Burr as Perry Mason
Barbara Hale as Della Street
William Hopper as Paul Drake
Wiliam Talman as Hamilton Burger
Ray Collins as Lt. Tragg

Cast
Gary Lockwood as Davey Carroll
Dianne Foster as Lori Richards
Dolores Michaels as Jo Sands
Robert Armstrong as Jimmy West
Mark Roberts as Tod Richards
Anthony Caruso as Keith Lombard
Joseph Sirola as George Hale
Mort Mills as Sergeant Landro
Sally Bliss as Kay McKenzie
John Gallaudet as Judge
Stewart Taylor as Sparring Partner
Dee Stratton as Switchboard Opr. #1
Ben Erway as Hotel Manager
Mae Clarke as Switchboard Opr. #2
Pepper Curtis as Blonde
Dennis Richards as Mechanic
Marty Brenman as Bell Captain
Tom Simcox as Waiter

Uncredited Actors
Don Anderson as Policeman

Crew
"Perry Mason"
Director of Photography … Robert G. Hager
Art Direction … Lewis Creber
Assistant Director … Robert G. Stone
Film Editor … Richard H. Cahoon, A.C.E.
Casting … Harvey Clermont
Makeup … Irving Pringle
Hair Stylist … Annabell
Wardrobe Supervision … Ed McDermott, Evelyn Carruth
Set Decoration … Charles Q. Vassar
Properties … Ray Thompson
Production Sound Mixer … Herman Lewis
Script Supervision … Cosmo Genovese
Theme Composed by … Fred Steiner
Automobiles Supplied by … Ford Motor Company
Perry Mason
Produced by the CBS Television Network in association with Paisano Productions
[SEAL OF GOOD PRACTICE]
Old time movie star Mae Clarke has a small part here as the switchboard operator. It would be her only appearance in the Perry series. Mae Clarke will forever be remembered at the recipient of a grapefruit in the face from Jimmy Cagney in the movie The Public Enemy. Mae Clarke was also the wife of Henry Frankenstein in the classic movie Frankenstein (1931). Submitted by PaulDrake 33, 28 August 2009.
Location: About 20 minutes in after a drunken night Davey Carroll talks to Perry and Paul outside the Courthouse. This is actually the Malibou Lakes Clubhouse and was also used in other episodes. See #113 for photos. Malibou Lakes was used in Perry Mason episodes 7, 26, 45, 71, 113, 195, 210, and 261. It has been featured as a location in the classic Frankenstein (see post above for ironic connection). Malibou Lake has been in such classics as Huckleberry Finn, Charlie Chaplin's The Great Dictator, and more recently the Story of Us and Must Love Dogs. It is also walking distance from locations where they shot Planet of the Apes, the TV show M*A*S*H and the Gillette estate where they currently film The Biggest Loser. Submitted by Eric Cooper, 11 May 2010.
Uncredited Actors: Don Anderson arrives at the murder scene as a Police Officer. Submitted by BigBill767, 6/20/2016.
Sightings: As Burger races forward with an objection, we find sitting in the courtroom gallery, Distinguished Gentleman #1 and Pencil Mustache Man. Learn more about them and other recurring spectators. Submitted by gracep, 1/8/2011.
+ The Distinguished Gentleman #1 gets around a little more in this episode as well. You can spot him at the "party" about 13:25 on the DVD, standing with his back to the camera at a table on the back right side of the screen. Later at night during the party, when the Jimmy is arguing at about 16:25 you can see the Distinguished Gentleman #1 sitting on the right at a table, reacting to the argument. Submitted by Kenmore 1/03/2012
++ We find Miss Carmody watching in court on Burger's side. Submitted by BigBill767, 6/20/2016.
+++ We now know that Distinguished Gentleman #1 is the actor Rudolph "Rudy" Salinger, but still, after all these years, the identify of Miss Carmody eludes us. Submitted by catyron, May 29th, 2021.
Fred Steiner, composer of the show's theme, finally gets an on-screen credit for his work. More about the theme and some clips in General Trivia here. Submitted by daveb, 6/30/2011.
Yet Another Cagney Connection: Robert Armstrong, who plays Davy's boxing trainer in this episode, played a boxing trainer for the FBI in 1935's G-Men -- laughing every time James Cagney was thrown from the mat, until Cagney wallops him one. (See entries 1 and 2 above for other Cagney connections.) Naturally, Armstrong had changed a bit in the intervening 27 years, but that voice of his was quite distinctive. Submitted by Fifty-Niner, 20 April 2012.
+ Eerie? James Cagney (July 17, 1899 to March 30, 1986) and Erle Stanley Gardner (July 17, 1889 to March 11, 1970) share birthdays. Submitted by Gary Woloski, 4/21/12.
+ "You dirty rat" is often attributed to Cagney. In this ep#156, Robert Armstrong (Jimmy West) exclaims to Davey "Ya BIG APE!!!", reminiscent of Robert Armstrong (Carl Denham) in 1933's King Kong (same year as Cagney's Footlight Parade). Likewise, in PM Ep#170 we'll hear Lt. Anderson's quip about "the Martian nine feet tall" to Michael Rennie (previously Klaatu) who grimaces in reaction to the memory of his old sidekick Gort. Delicious! Gary Woloski, 4/21/12.
CARS. (1) A man driving a dark 1962 Buick LeSabre 4-Door Sedan picks up Lori Richards at the Courthouse just as Perry & Davey are leaving the Sheriff's office next door.
Background Car: Right-rear corner of a white 1962 Lincoln Continental parked just outside the Sheriff's office door as Perry & Davey leave, seen just before Car(1) [could be Perry's car for the trip to bail out Davey]. Added by Gary Woloski, 6/11/13.
+Thank you, Gary, for the information on the Harley-Davidson Servi-Car. I remember those, but did not know what they were called. Catyron, April 21, 2018.
Newspaper: A reporter for the Evening Star is a character in the story. The fourth L.A. newspaper in the series. A fifth paper will be seen in episode 181 TCOT Witless Witness. Submitted by H. Mason 9/29/14
Gary Lockwood's role in 2001: A Space Odyssey is mentioned in the Summary (where I don't think it belongs); another well-known role of his was in the second pilot of Star Trek, aired as S01E03 Where No Man Has Gone Before. His fight with Capt. Kirk in this episode is said to have sold NBC on the series. Submitted by DyNama, 2/6/2016.
This is purely my conjectured Star Trek connection, but in the courtroom gallery, in the back row, appears a man who looks like he might be Leonard Nimoy's brother (Melvin) or show-biz cousin (Jeff). He looks on in a few other episodes. JohnK, 4 January 2022.
This is the second of two PM writing credits for Helen Nielsen who, when writing mysteries, liked to provide enough clues for readers/viewers to solve the crime themselves...MikeM. 11/4/2016
Star Trek Sighting: In addition to Gary Lockwood, mentioned above, Anthony Caruso (the actor playing Keith Lombard) was the unforgettable Bela Oxmyx in the delightful original series Star Trek episode "A Piece of the Action," which involved a planet run by Chicago-style mobsters. Caruso had a flair for playing mob bosses and tough guys, which he brings to this episode. Added by My Favorite Polar Bear, 11/08/22.
This is the only PM appearance for Dolores Michaels, who was married to writer Bernard Wolfe...MikeM. 2/10/2017
For once the parking spot in front of the courthouse was taken. We see Perry walking across the street to reach the first scene in court! HiTechHiTouch 4 March 2018
+ Actually, that Ford Galaxie convertible is Perry's. The scene just starts after he has already exited the car. See CARS (4), above. Submitted by Kilo 7/28/2018.
Comments

Edit
Potential Spoiler.
The fourth episode in succession to use that staircase set, seen in the background of the restaurant scene. DOD 12/18/20
When Davey gets knocked flat on his back in the opening scene, a tasteful blur shields us from the sight of one of Davey's dumplings making an impromptu appearance. DOD 01/03/22
+ HaHa. Never noticed that before. No blur on the DVD. Kilo 4/7/2022.
In the epilogue scene, we see Gary Lockwood's character get knocked out in the ring. In the next scene, Lockwood is now in the locker room still unconscious as Perry, Paul and Della talk to the former defendant about how they figured out who the real killer was.
A few minutes later, Lockwood wakes up and seems fine.
Today, when a fighter is knocked out he's taken away on a stretcher straight to the hospital if he doesn't awaken in the ring. Here, it seems a good 10 minutes have passed between Lockwood's KO and his awakening with no doctor in sight.
My how times have changed. Submitted by Kenmore 1/03/2012.
37 Strikes Again: Note the appearance of the most frequently-selected supposedly-random two-digit number, 37: Todd Richards called his girlfriend 37 times that month. Compare episode #152, The Promoter's Pillbox. Submitted by 10yearoldfan, 29 August 2013.
The meaning of the poker hand (King of Diamonds, King of Spades, Two of Clubs, Three of Clubs , Four of Clubs) was never explained. In court Mr. Lombard said "more of the old hotel slander". Was there a missing scene or dialog? Did anybody understand the significance of the cards? Submitted by H. Mason 12/15/14
I'll have to watch it again, but it appears that Lombard was holding that hand when he learned that an arsonist he had hired wanted to use the fire to cover up a murder at the hotel. Perhaps someone else can add more details...MikeM. 11/4/2016
<< Capricious Corpse | Episodes | Double-Entry Mind >>