Show58
<< Jaded Joker | Episodes | Stuttering Bishop >>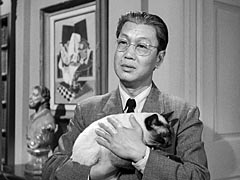 #58: The Case of the
Caretaker's Cat
Original Airdate: 03/07/59
From The Perry Mason TV Show Book (Revised)
Peter Baxter had a plan to test the loyalty of his heirs. First he would pretend to change his will, cutting all of them out and leaving the estate to his caretaker, James Hing. Then Hing was to burn down Baxter's house and Baxter would substitute a medical cadaver for his own body. If anyone contested the will, he or she would really be disinherited. Hing does as his employer planned, but the body found in the ashes is really that of Peter Baxter. Tragg and Burger don't believe Hing's wild story, but Perry does. It's just too fantastic to be a lie. That means one of the heirs overheard Baxter planning, and really did kill him. The question is: Which one?
Raymond Bailey (Mr. Drysdale of The Beverly Hillbillies) plays John Hilliard in this show. Also, science fiction movie fans will recognize actor John Agar playing Kenneth Baxter.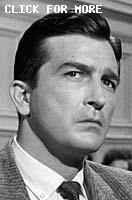 Opening
Starring Raymond Burr
in The Case of THE CARETAKER'S CAT
Based upon characters created by Erle Stanley Gardner
Barbara Hale as Della Street
William Hopper as Paul Drake
William Talman as Hamilton Burger
Ray Collins as Lt. Tragg

This episode uses a different opening credit scene than the nearby episodes (before and after) of Season 2. Rather than seeing Perry receive a document from the judge, look at it, and show it, in turn, to Della, Paul, Burger, and Tragg, this episode starts with a pen and inkstand on the bench; Perry picks up a document, looks at it, the scene freezes, and his image shrinks to fit into the sword of Justice. This opening scene is common in episodes from season IV (I think) but is anomalous here. Does anyone know why it was used here? Submitted by 10yearoldfan, 2 June 2012.
+ My guess is CBS reran the episode a couple of years later during the "Model Courtroom" opening phase and didn't want the episode to look like an old rerun so they created a new opening with the then current "Model Courtroom" opening and the original opening got lost. Submitted by Wiseguy70005, 6/15/12.
Trailing
Directed by Arthur Marks
Teleplay by Richard Macaulay and Seeleg Lester
Ben Brady | Producer
Produced by CBS Television in association with Paisano Productions
Gail Patrick Jackson | Executive Producer
Sam White | Associate Producer
Cast
Benson Fong as James Hing
John G. Agar as Kenneth Baxter
Robert Knapp as Stuart Baxter
Maxine Cooper as Edith Devoe
Judy Lewis as Winifred Oakley
Dick Crane as Dr. Douglas Keene
Raymond Bailey as Mr. Hilliard
Anthony Eustrel as Gordon Roland
Barney Biro as Judge
Bill Erwin as Paint Store Clerk
Michael Fox as Autopsy Surgeon
Anthony Jochim as Peter Baxter
George E. Stone as Court Clerk
Jacqueline Lee as Nurse Watson

Uncredited Actors
Lee Miller as Sgt Brice (submitted by BigBill767 2/4/17).

Crew
Gene Wang | Story Consultant
Seeleg Lester | Associate Story Consultant
Production Supervisor … J. Paul Popkin
Story Editor … Alice Young
Director of Photography … Frank Redman, A.S.C.
Art Direction …
Lyle Wheeler
Lewis Creber
Editorial Supervision … Art Seid, A.C.E.
Film Editor … Otto W. Meyer, A.C.E.
Assistant Director … Robert G. Stone
Casting … Harvey Clermont
Makeup … Richard Hamilton
Hair Stylist … Annabell, S.C.H.
Wardrobe Supervision … Dick James
Set Decoration … Walter M. Scott, Charles Q. Vassar
Properties … Ray Thompson
Sound Editor … Gene Eliot, M.P.S.E.
Production Sound Mixer … Roy Meadows
Script Supervision … William E. Orr
Perry Mason
Filmed in Hollywood by TCF Television Productions, Inc.
A CBS Television Network Production
CARS: No cars. From The Cars by Greg Cockerill.
Sightings: Our little dark-complected friend with the pencil-thin moustache—who often sits in the courtroom gallery—appears again in this episode. He is in the right rear corner behind Perry, and again whispers. The difference this time is that when Winifred Oakley and Dr. Douglas Keene enter Beverly Hills Doctor Hospital early in the episode, he is also sitting in the waiting room. Submitted by PaulDrake 33, 24 July 2008.
+ He is also drinking at a restaurant where Perry and Paul meet. We see the Pencil Mustache Man as the camera pans from the waiter making Caesar salad (with raw eggs) over to Perry and Paul's table.
++ The Thin Man is eating at the Restaurant behind Perry and Paul. And the Distinguished Lady #4 is watching court from her favorite spot in the back row behind Perry. Submitted by BigBill767, 2/4/17.
Judy Lewis makes her only Perry Mason appearance playing Winifred Oakley. Judy Lewis was the daughter of Loretta Young and Clark Gable, the result of an affair on the set of the movie Call of the Wild in 1935. At the time Clark Gable was married to Maria Franklin Gable and Miss Young was unmarried. Submitted by PaulDrake 33, 24 July 2008.
+ She certainly has her mother's wide set eyes. DOD 07/22/19
++ Knowing her parentage, you can certainly see her resemblance to both, that to Loretta Young being predominant, but there is definitely more than a suggestion of Gable there, too, though I can't quite put my finger on exactly what. OLEF641 12/17/2020
+++ I think it's her smile, and the ever-so-slight space between her front teeth. jfh 21Nov2023

John Agar makes his only Perry appearance here as Kenneth Baxter. John Agar is well known for being the first husband of Shirley Temple from 1945-1950. Submitted by PaulDrake 33, 22 February 2014.
Maxine Cooper plays Nurse Edith Devoe in this episode and portrayed Nurse Gladys Strome in "TCOT Fugitive Nurse" (#22). These were her only PM appearances, and she played a nurse in both episodes. Submitted by Charles Richmond, 10/24/2008.
+ MC has 42 IMDb Actress credits from 1948-80, including Nurse Evans in "Autumn Leaves [1956]." Mike Bedard 6.20.16
++ While not a "nurse" role, Maxine Cooper has a prominent role in the Mickey Spillane noir film, Kiss Me Deadly (1955). jfh 21Nov2023

Does Mr. Hilliard, the banker, look familiar? He might. That's Raymond Bailey who later achieved fame as banker Milburn Drysdale on The Beverly Hillbillies. Submitted by daveb, 5/14/2010.
+ Raymond Bailey has more banking connections than this. When Bailey first came to Hollywood to be an actor, he found it impossible to get work. Instead Bailey went into a high finance career working as stockbroker and banker. This according to his mini-bio at IMDb. Again, art imitates life. Submitted by Charles Richmond, 3/7/2012.
Character Names: Attorney Gordon Roland's middle initial is "T". It appears on the door to his office though it is omitted from the credits. Submitted by gracep, 8/20/2010.
+ Indeed there are more omissions. In previous episodes, the Autopsy Surgeon played by Michael Fox was Dr. Hoxie, though this name is omitted in the credits in this one. Additionally, the "Paint Store Clerk" is in fact A. J. Nelson, the proprietor of the paint store, who displays the stamp at the bottom of his paint can. Submitted by gracenote, 4/28/2011.
+ The address of the paint store, "2718 Clayton Ave, Los Angeles, Cali" is now in a residential neighborhood according to Google Maps. Submitted by Kilo 6/27/2017.
The Siamese cat owned by Hing (the eponymous caretaker's cat) is named Monzu in the story, but the little feline did not receive any acting credit. Submitted by gracep, 8/20/2010.
Sightings: Through the courtroom door we see Little Old Lady in a Hat pausing in the hallway after the court recesses. One may see a glimpse or two of her during the hearing as well. Submitted by gracep 8/20/2010.
+In the same hallway view mentioned above, we can also see "Miss Carmody", who shows up on the front row, prosecution side, during the proceedings. Other spectators include Distinguished Gentleman #1, Distinguished Lady #3, and of course, as pointed out in a trivia item above, Pencil Mustache Man. Submitted by alan_sings, 16 Oct 2010.
Monzu looks like the traditional, round-headed kind of Siamese cat. Around the time of Perry Mason (the 1950s), Siamese breeders started favoring more extreme triangular/wedge faces, and now a purebed traditional is rare. Submitted by gracenote, 4/28/2011.
+ The Traditional, sometimes called 'Apple-head', Siamese has undergone something of a revival and can be shown at cat shows that recognize them.. OLEF641; 10/17/2017.
Busy hospital: Dr. Douglas Keene worked in the same hospital where Dr. Michael Harris worked in episode 44 TCOT Curious Bride. Submitted by H. Mason 10/17/14
Movie: The Erle Stantey Gardner story that inspired this episode was made into the movie The Case Of The Black Cat with Ricardo Cortez as Perry Mason and June Travis as Della Street. It was released in 1936 and based on the serialized story with the same title as this episode that appeared in Liberty Magazine from June 1935 to September 1935. The movie is available on DVD. The only cat in the movie, named Clinker, wasn't black. Submitted by H. Mason 10/19/14
+ The movie bears a much closer relationship to the ESG source novel than does this episode. The episode changes the number of victims (from two to one), and the identities of both the defendant and the remaining victim. Toss in the novel's (and movie's) additional dead body and multiple killers and you have a recipe for a teleplay that significantly altered the novel's plot, but did not necessarily improve on it. Submitted by BobH, 17 October 2016.
This is the only PM writing credit for Richard Macauley who, according to Wikipedia, was very conservative and gave the HUAC names of Hollywood people he suspected of being communists...MikeM. 9/27/2016
This is the second of four PM appearances for Benson Fong (James Hing), who played Charlie Chan's Number Three Son, "Tommy Chan", in six movies. Benson Fong passed in 1987 at the age of 70. He was survived by his wife, five children, and nine grandchildren...MikeM. 7/9/2018
Comments

Edit
This is without a doubt the most convoluted episode of all the Perry Mason shows. To think a wealthy man would try to come up with a cadaver, then burn down his own mansion with all of his relatives' possessions contained within only to test his heirs' fidelity defies belief. How about trusting your own judgment? Submitted by PaulDrake 33, 7/24/2008.
The interior sets have a richness and level of taste unusual for the series. I wonder if they, as well as the clip of the burning mansion were borrowed from a film. Do they look familiar to anyone? DOD 09/06/22
+ Perry does say: "It's incredible that anyone could conceive a plan so incredible." Mike Bedard 6.21.16 MeTV viewing.
++ minor correction: "It's incredible that anyone could conceive a plot so fantastic." jfh 21Nov2023.

++I have to agree that the 'test' seems strange. Especially when the heirs are only getting $1, they really have nothing to lose by contesting the will, especially the favored niece, who was probably hurt that her uncle didn't leave her anything. Also, wouldn't the doctor be risking his medical license and/or reputation by providing a cadaver to be burnt? Isn't that some sort of crime? Wouldn't the doctor have shown up, even without a call, since he had to have the cadaver ready on that particular night? —yelocab 30DEC19
Perry asks Paul to find out how much insurance was paid after the fire. In a case of arson, no insurance would be paid. DOD 07/22/19
Both "Caretaker's Cat" and the previous episode "Jaded Joker" open with a piano tune. In "Jaded Joker," Bobby Troup seems to be improvising a tune. In "Caretaker's Cat," Judy Lewis is playing a finished composition. I may have a tin ear, but it seems to me both these tunes hare very similar. Perhaps, they are different parts of the same tune? Submitted by billp, 2/22/2009.
+ At the end of episode #57, Bobby Troup is credited with composing and performing the "Jaded Joker Theme." It could well be the same tune played in the next episode, but there is no mention of it in the credits for episode #58. Submitted by gracep, 8/22/2010.
++ The two songs do have a similar tempo, but they sound completely different from one another. The Jaded Joker Theme, written and performed by Bobby Troup, is a 'darker' piece while the one played by Judy Lewis is a more cheerful tune, and reminds me of an 'old standard' type of tune. If the two pieces ARE related, they would have to be separate movements of a large concerto. Submitted by Arisia, 2/16/2018
+++ My 2 cents worth: they are indeed the same piece of music, as far as I can tell from the snippet heard in the background of the opening scene of this episode as broadcast tonight, December 16, 2020, on MeTV. Most of the music is obscured by the conversation, but there is one short unobstructed passage. I immediately stopped the recording and started up the Jaded Joker. Troup plays the same pattern of notes on slightly different pitches, then plays the snippet heard in Caretaker's Cat. OLEF641 12/16/2020
At two points during his examination of Nurse Devoe, Perry refers to an earlier conversation he had with her. This seems to have been edited out of the TV print I saw, though. I often wonder whether key clues have been edited out! Submitted by Ed Zoerner, 2/26/2011.
+ Indeed! I compared the DVD version of this show with one taped off the Hallmark Channel and found that the entire 1 minute 55 second scene where Perry talks with Ms. Devoe in her room is missing! I didn't watch enough of the episode to know if there were any key clues, but there was a lot of talking. Submitted by daveb, 2/27/2011.
The burning of the house interposed with a cut of the burning of the newspaper announcing the millionaire's is very dramatic and effective and well done. Submitted by gracenote, 4/18/2011.
+From the way he jumps back in panic, it also looks as though Benson Fong is more than a little surprised at the violence of the explosion. If it's a special effect, it's a very good one for the time. Submitted by Vladimir Estragon 10/31/2020.
During his cross-examination of Dr. Keene, one of Mason's lines, regarding the findings of the autopsy surgeon, is dubbed in. Besides acoustical difference, one can tell, even when Mason's head is mostly turned away, that he's saying something other than what we're hearing. Submitted by francis, 2/11/12.
+ And when Perry asks the autopsy surgeon whether sedatives alone might have caused death, the off-camera response of "yes" sure doesn't sound like the voice of Michael Fox. Ed Zoerner, 11/30/23. + In fact, every time Burger or Mason mention "volatile spirits," the lines are clearly dubbed over. I found the explanation on the IMDb Website: "...whenever the name of the accelerant ... is mentioned, the phrase "volatile spirits" is repeatedly - and obviously - dubbed in by the original actors. A check of the script ... shows the accelerant was originally "mineral spirits", a paint thinner. Apparently, CBS censors objected to on-air mention of an actual substance that could be used to start fires, hence the dubbing-in of the more generic-sounding "volatile spirits". Submitted by scarter, 7-21-14
++ In the scene where the bottle of volatile spirits was first pulled out of the closet the bottle was labeled "Mineral Spirits". Later a close up of the bottle shows the label now says "Volatile Spirits". Submitted by Kilo 4/17/2018.
When Burger questions Keene it is possible to see jug is labeled 'mineral spirits'. So was there a second will that would allow Winifred to inherit? DOD 07/22/19
CBS is known for alternating opening credits on its programs. In addition to the change of opening in this episode, during the 195-episode syndication run of Perry Mason in the 1970's, more than half of the first season had the second season theme dubbed over the opening and closing credits although in many episodes the opening and closing themes didn't match. The themes have since been restored. For The Twilight Zone, again about half of the first season episodes had the opening replaced by the second season version. These continue to be seen in syndication, cable and VHS. I don't know if the original openings have been restored for the DVDs and Blu-Rays. The only reason for this would seem to be to fool the viewer into thinking the episode is not as old as it is. Submitted by Wiseguy70005, 6/15/12.
<< Jaded Joker | Episodes | Stuttering Bishop >>