Show164
<< Lurid Letter | Episodes | Polka Dot Pony >>
#164: The Case of the
Fickle Filly
Original Airdate: 12/13/62
From The Perry Mason TV Show Book (Revised)
Brad Shelby jilts Jennifer Wakely to marry the older, richer, and wiser Madelon Haines. Jennifer feels even more alone when her dad dies and her Uncle Emmett breaks the news that she is penniless—a shock to her since she has always lived in comfort.
The only possession the girl has left is her racehorse, Tiger Lil. Brad Shelby manages to crush that little ray of sunshine for Jennifer when he works a deal with Uncle Emmett to buy the filly. He pays far more for the horse than it's worth, so maybe he was doing Jennifer a favor after he jilted her. No matter, Jennifer doesn't see it as a kindness and when Shelby is murdered, the police arrest her for the crime. Watch for the late Jim Davis, Jock in Dallas, in this episode.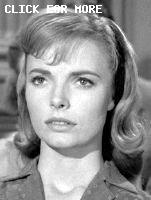 Opening
Starring Raymond Burr
in The Case of THE FICKLE FILLY
Based upon Characters Created by Erle Stanley Gardner
Barbara Hale, William Hopper, William Talman, Ray Collins
Trailing
Directed by Allen H. Miner
Written by Bob and Esther Mitchell
Art Seid | Producer
Gail Patrick Jackson | Executive Producer
Jackson Gillis | Associate Producer
Samuel Newman | Story Consultant
Raymond Burr as Perry Mason
Barbara Hale as Della Street
William Hopper as Paul Drake
William Talman as Hamilton Burger
Ray Collins as Lt. Tragg
Cast
Lisabeth Hush as Roberta Harper
Jim Davis as George Tabor
Mort Mills as Sergeant Landro
Joan Freeman as Jennifer Wakely
Jennifer Howard as Madelon Haines Shelby
Strother Martin as Joe Mead
Bartlett Robinson as Emmett Pierson
Bob McQuain as Brad Shelby
Frederic Worlock as Judge
Bill Quinn as H. B. Durell
Tom Geas as Victor
Earl Brown as Stable Hand
Uncredited Actors
Bert Stevens as Racetrack Spectator (spotted by gracep 1/15/2011)
Crew
"Perry Mason"
Director of Photography … Robert G. Hager
Art Direction … Lewis Creber
Assistant Director … Robert G. Stone
Film Editor … Richard H. Cahoon, A.C.E.
Casting … Harvey Clermont
Makeup … Irving Pringle
Hair Stylist … Annabell
Wardrobe Supervision … Ed McDermott, Evelyn Carruth
Set Decoration … Charles Q. Vassar
Properties … Ray Thompson
Production Sound Mixer … Herman Lewis
Script Supervision … Cosmo Genovese
Theme Composed by … Fred Steiner
Automobiles Supplied by … Ford Motor Company
Perry Mason
Produced by the CBS Television Network in association with Paisano Productions
Location: About 8 minutes in, there is a quick shot of the entrance to Hollywood Park Race Track. Submitted by Eric Cooper, 21 May 2010.
Sightings: From the back row of the grandstand, uncredited actor Bert Stevens and the ubiquitous "Miss Carmody" enthusiastically watch Tiger Lil in her first race. In subsequent races, only Stevens turns up. Distinguished Lady #2 might be the jail matron. Courtroom spectators include Quiet Old Man #1 and possibly Distinguished Gentleman #1. Submitted by gracep, 15 January 2011.
Location: I can't say for sure, but based on the power lines in the background which I believe are at Reseda and Lassen, I think the ranch featured in this episode is part of either one of two farms that raised thoroughbreds. Barbara Stanwyck and Zeppo Marx jointly formed the 140 acre Marwyck Ranch. (Later it was sold to comedian Jack Oakie.) Their ranch started at Devonshire and Reseda and continued toward Lassen. However, since the land is flat here and the power lines look very close I'm going to say this is Marwyck Ranch, named by combining the last names of Barbara Stanwyck and her agent Zeppo Marx. William S. Hart was also a partner on this 127 acre ranch. Marwick included a 6 furlong (3/4 mile) thoroughbred training facility with stables. Submitted by Eric Cooper, 27 July 2011.
CARS. (1) Jennifer Wakely's 1959 Ford Fairlane 500 Galaxie Sunliner, light color, (rag-)top down, Licence No. RUA 051. Remember, Perry's '59 Skyliner was a "Retractable HardTop".
Paul's '62 TBird first appeared in ep#143, Perry's '62 Sunliner in ep#147. Added by Gary Woloski, 6/30/13.

In Burger's direct examination of a witness, he refers to an injury to the os pedis. This is a specific bone in a horse's foot, "the pedal bone—also called the coffin bone. It's also called the distal phalanx, the os pedis, the P3 and the third phalanx." jfh 30Dec2020

This is the first of two PM writing credits for Bob and Esther Mitchell...MikeM. 11/16/2016
This is the only PM appearance for Joan Freeman who, according to IMDb, last worked on television in 1994 when she appeared in episodes of "Renegade" and "The Commish", each directed by her husband, Bruce Kessler...MikeM. 2/22/2017
This is the second of three PM appearances for Lisabeth Hush, who was married to actor Sam Gilman...MikeM. 3/14/2018
This is the fifth of five PM appearances for Frederic Worlock, all as a "Judge"...MikeM. 3/14/2018
Comments

Edit
Watch for the scene in the first half where Paul reports to Perry from a phone booth. Isn't that booth just a little peculiar? Submitted by Mitch English, 1/13/2005.
+ Good catch on the phone booth. The short scene starts at about 22:58 on the 2011 Paramount DVD. I had to watch it a few times before seeing the chuckle-worthy peculiarity. Submitted by masonite, 10/19/2011.
+ It took me a couple of viewings to spot the "peculiarity" of the phone booth Paul calls from. Without giving anything away, I'll just say viewers should focus their attention on Paul's right arm. Submitted by Kenmore 1/10/2012.
++ EX-CELL-ENT catch and clue...when I saw it, I laughed...GREAT and THANKS! ;-> Submitted by mesave31, 03/29/15.
That race track official uses Della's unique filing system - a single drawer for eight random letters of the alphabet. DOD 01/14/22
Strother Martin (Joe Mead) was in many of the TV shows we are familiar with: Dick van Dyke, Bonanza, etc., but he is most famous for the line "what we have here…is a failure to communicate!" in Paul Newman's terrific Cool Hand Luke. Submitted by CGraul, 8/29/2011.
+ Strother says "What we've got here is…failure to communicate" in CHL, which also has the quote with an "a." (The also-terrific novel doesn't have the quote.) Strother is always fun to watch, and to listen to, though too many of his performances in a row could leave you a little less laid-back than Tiger Lil. Submitted by masonite, 10/19/2011.
Paul's TBird. So far, the best shot in the series of Paul's '62 TBird is at 24:13 of this episode. The shot shows the radiator grill in close-up and the yellow '56-pattern licence plate. The '62 grill has been described as "four rows of shiny metal 'drawer pulls' between thin horizontal bars" (Gunnell, p47). At this point in the series, we should soon be seeing 1963 model-year cars and 1963-issue plates. For later identification purposes (Ep#169), it may be helpful to remember how the '62 TBird grill looks on B&W TV in this scene and to imagine how the interaction between the grill's geometric pattern and the TV process's raster scans and limited resolution might play tricks with the grill's video appearance. Added by Gary Woloski, 8/7/13.
At a time about 2/3 of the way through the show, there is a scene in Perry's office where Perry and Della are discussing the murder victim. Della refers to him quite clearly as Brad Selby, while only a few moments later Perry correctly calls him Brad Shelby. Hard to imagine how this error got through and even more how the two actors didn't stop the scene realizing one had used the wrong name of a character just moments apart. Submitted by PerryDixon 10/14/13
+ Personally I find these kind of minor faux pas, which occur throughout the series (and are frequently pointed out), to be be quite realistic: both are talking about someone neither knew very well or for very long, and it's not unlikely one of them might mis-pronounce/remember their name; and the other might or might not notice (or correct them). Whether the production team felt the same way - and left it in intentionally - or just didn't notice either, we can't of course know. Rebuttal by Notcom, 031518.
Opening Scene. Once again, Perry shows up at the courtroom on the wrong date and wonders why everyone else isn't there. Submitted by 10yearoldfan, 18 Oct 2013.
+ Yes, and you can see him wondering why Della would have told him the wrong time to be there! Submitted by Welshwoman 04/02/15
+ I disagree with the running criticism of this opening. Trial work, if conducted properly, is performance art as much as it is knowledge and skill. Well-prepared trial lawyers will become familiar with courtroom layout and setup in advance of the trial, not just show up "cold" in court on the trial date. jfh 16Nov2016
This is another case where Burger asks a witness about a private conversation held between witness and defendant, and the witness admits that the defendant made a threatening remark about the victim. How would Burger have known what was said, and why would the witness admit it, to the detriment of the defendant? yelocab 22FEB18
+ trial prep. jfh 22Dec2022

The Shamrock stable hand took a peek at the camera when he was being questioned by Burger. Kilo 2/4/2020.
As Perry begins his questioning of Roberta Harper for the final time, he turns and walks back to the counselor's table. A large thread or string is seen dangling from the back of his suit jacket, as though the seam may be damaged. Chief Kurtz 12/10/2021
<< Lurid Letter | Episodes | Polka Dot Pony >>