Show220
<< Place Called Midnight | Episodes | Reckless Rockhound >>
#220: The Case of the
Tragic Trophy
Original Airdate: 11/19/64
From The Perry Mason TV Show Book
Movie producer Tony Fry has been squiring around his new fiancée, Kathy Anders, simply as a publicity stunt. Fry, who's short on cash, wants to get money for his latest flick from wealthy angel J. J. Pennington. As a back-up plan, Fry is prepared to blackmail Pennington's wife Joanne for the money, using some "indiscretions" in her early acting days as bait.
But Fry doesn't know that his girlfriend Kathy Anders is actually Kathy James, daughter of a cameraman whose career Fry had ruined. Kathy gets incriminating photos of Fry with Mrs. Pennington and later goes to his house to get other dirt on him. But Fry surprises her and pops her. Trying to defend herself, Kathy grabs a film trophy and clubs Fry. When his dead body is discovered, she's arrested. However, Perry thinks that Fry was killed by a second blow.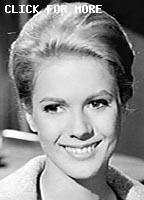 Opening
Starring Raymond Burr
in The Case of THE TRAGIC TROPHY
Based upon characters created by Erle Stanley Gardner
Barbara Hale, William Hopper, William Talman, Ray Collins
Trailing
Directed by Richard D. Bonner
Written by Mann Rubin
Arthur Marks \ Art Seid | Producers
Gail Patrick Jackson | Executive Producer
Jackson Gillis | Associate Producer
Samuel Newman | Story Consultant
Raymond Burr as Perry Mason
Barbara Hale as Della Street
William Hopper as Paul Drake
William Talman as Hamilton Burger
Ray Collins as Lt. Tragg
Welsey Lau as Lt. Anderson
Music Composed by Richard Shores
Music Supervision by Herschel Burke Gilbert
Cast
Richard Carlson as Anthony Fry
Paul Stewart as J. J. Pennington
Constance Towers as Joanne Pennington
Patricia Huston as Lydia Lawrence
John Fiedler as Howard Stark
George Brenlin as Coley Barnes
Mimsy Farmer as Kathy Anders
Alvin Childress as Janitor
Reed Hadley as Medical Examiner
Robert Bice as Uniformed Man
Walter Mathews as Second Reporter
Kenneth MacDonald as Judge
E. J. Andre as Druggist
Alex Bookston as First Reporter
Charles McDaniel as Third Reporter
Jack Swanson as First Cameraman
Russ Whiteman as Second Cameraman
Bobby Johnson as Red Cap
Uncredited Actors
Don Anderson as Airplane passenger
Crew
Director of Photography … John M. Nickolaus, Jr.
Art Direction … Lewis Creber
Assistant Director … Robert G. Stone
Film Editor … Richard H. Cahoon, A.C.E.
Casting … Harvey Clermont
Makeup … Irving Pringle
Hair Stylist … Annabell
Wardrobe Supervision … Ed McDermott, Evelyn Carruth
Set Decoration … Carl Biddiscombe
Properties … Ray Thompson
Production Sound Mixer … Herman Lewis
Script Supervision … Marshall Schlom
Theme Composed by … Fred Steiner
Automobiles Supplied by … Ford Motor Company
Perry Mason
Produced by the CBS Television Network in association with Paisano Productions
Sightings: We find quite a few of our favorites in court today. Ms Carmody is joined by the Little Old Lady #1, Quiet Old Man #1, and the Pencil Mustache Man. The Thin Man can be seen in the front row on Burger's side. submitted by BigBill767, 6/17/2016.
Uncredited Actors: Don Anderson has been out of town but returns in the opening scene has he gets off the airplane. Submitted by BigBill767, 6/17/2016.
The janitor in this episode is played by Alvin Childress in his only appearance on Perry. Alvin Childress was for two years (1952-1953) and 69 episodes Amos Jones on the controversal CBS sitcom Amos and Andy. After Amos and Andy, Mr. Childress found it extremely hard to find work. Submitted by PaulDrake33, 30 September 2009.
Too bad Ray Collins is not in this episode - he and Paul Stewart were memorable in "Citizen Kane". Constance Towers, married 44 years to John Gavin, is still going strong at age 85. DOD 02/20/19
Location: This episode opens at the Burbank Airport. You can see the exterior of the terminal and parking lot. I confirmed this with Les Copeland, president, of the Burbank Aviation Museum. Burbank Airport is now called Bob Hope Airport and has a slightly remodeled facade. It is also featured in episodes #39, #99, #165 and #258. Posted by Eric Cooper, 9 August 2010. Some pictures here.
+ This airport has had many names over the years of its existance. Starting out in 1930 as United Airport, by 2017 it had been "re-branded" as Hollywood Burbank Airport, as travellers didn't have a clue where Bob Hope Airport was. OLEF641 7/31/21
Location: Also, 35 minutes into the episode Perry walks up the steps of the Stanley Mosk Superior Court at 111 N. Hill Street. Posted by Eric Cooper, 9 August 2010. Some pictures here.
Continuity: When Fry is being interviewed next to the airport terminal, the light changes instantaneously from diffuse sunlight in the group shot to direct sunlight in the close-up. Submitted by Alan Smithee, 12/24/2013.
The Fourth Wall: After Fry leaves Pennington's office, Pennington briefly looks directly at the camera, a no-no. Submitted by Alan Smithee, 12/24/2013. P.S. Merry Christmas.
Prolific character actor John Fiedler makes his only Perry appearance in this episode playing Howard Stark. Mr. Fiedler is probably best know for his recurring role 10 years later as the neurotic Mr. Peterson on The Bob Newhart Show. Submitted by PaulDrake 33. 8 January 2015.
+ Another Murder-Mystery role was Mr. Hengist in Star Trek: "Wolf in the Fold," a Jack the Ripper episode with a hearing aboard the Enterprise (Star Trek Compendium). John's Crime Series parts included a Dr. in Columbo & County Health Commissioner on Quincy [IMDb: 190 Actor credits]. Mike Bedard 4.16.15
++ Also as well-known for 6 appearances as varous charcters on Bewitched from 1967-1971, and as well as being the voice actor for Piglet in Winnie The Pooh videos. jfh 26Nov2022
Business for Perry: Once again Paul's client had to turn to Perry Mason for help after being charged with murder. Submitted by H. Mason 4/12/15
Alias: Kathy James aka Kathy Anders was the twenty-first murder suspect Perry Mason defended who used more than one name in the story. That does not include episode 119 where his client was also known as Miss Debutante. Submitted by H. Mason 4/12/15
Double Vision: Richard Carlson and Paul Stewart appear together in this episode and TCOT Avenging Angel. Submitted by HamBurger 10/01/2016
+ Richard Carlson, star of "Creature From The Black Lagoon" is often confused with Hugh Marlowe, who was in six "Perry Masons". Joe B.02/21/2020.
++ Paul Stewart is a decent actor, but why does he always look as if he's swallowed a particularly sour lemon? Maybe it's from having to put up with the likes of Tony Fry and Clete Hawley. Submitted by BobH, 22 February 2019.
Coincidence: I had watched The Little Foxes OnDemand immediately before this episode came on. There was Richard Carlson playing David Hewitt in the former along side the legendary Bette Davis, now Anthony Fry in this episode. jfh 20Feb2019
TCOT Curious Coffee Set: "The Curious Coffee Set" makes an appearance in Tony Fry's home. jfh 08Feb2018
+ And, meanwhile Della has switched to the cheap, plastic West Bend Thermo Serv insulated mugs with black liners and gold-coloured anodized aluminum exteriors, first seen in Episode 218. Submitted by catyron, June 22nd, 2018
This is the first of two PM writing credits for Mann Rubin, who also had two credits for "Ironside"...MikeM. 2/2/2017
This is the second of two PM appearances for Mimsy Farmer, who was born Merle Farmer. Her nickname Mimsy reportly came from the nonce word in Lewis Carroll's "Jabberwocky"...MikeM. 2/8/2018
+ Farmer is very lovely in this episode. She may be best known for being James MacArthurs impossibly sweet girlfriend in Spencer's Mountain. DLH 3/5/20
This is the last of four PM appearances for Patricia Huston (Lydia Lawrence), who was born Patricia Baker. Patricia Huston was married to actor John Brinkley, who had a single PM appearance as Jasper Fenton in TCOT Fan Dancer's Horse...MikeM. 6/14/2018
+ I saw Ms. Huston playing a rather dotty mother-in-law in the Columbo episode "No Time to Die". Quite a different role from the ones she played in Perry Mason! submitted by...MikeReese 11/11/2020

This the only PM appearance for George Brenlin (as Coley Barnes) who, from cettain camera angles, looks a bit like Bill Bixby and who, coincidentally, appeared on two episodes of The Incredible Hulk. jfh 26Nov2022
Way Down South As indicated on the cast list (above) - which seems to mimic the actual credits displayed on the show - Ms. Farmer wasn't listed until the middle of the second card: I can't recall another episode where the defendant, and more to the point, the principal character, received such lowly billing. And what a shame: a name ESG would have given his eye teeth to come up with !! (Altho I suspect it really reflected Hollywood protocol and her status as a newcomer). Rued by Notcom, 070519.
Comments

Edit
Question: Why was Joanne kissing Tony in the early scene?
+ Joanne tried to fend him off when he got in her vehicle, but he persisted and kissed her as she was trying to turn her head away from him. jfh 26Nov2022
PM reused the same walk-in-to-the-courthouse footage (same location of cars, people, etc.) 3 episodes earlier, in #217 Nautical Knot. But in TT Perry no longer has his white pocket handkerchief when he's inside the courtroom. Why repeat the same footage only 3 weeks later? Surely there is good-enough footage from the previous year for example. Submitted by (lowercase, with a comma and period) masonite, 12/12/12.
+ When Perry walks in the courthouse he must have spotted someone he knew because he had a grin on his face for several seconds before he got serious. He tried to cover by putting his hand over his mouth. Also, just as Perry is walking through the door you can see two women and a child standing inside watching him come in. They've disappeared once the camera angle switches to the inside shot. A sheriff can also be seen moving out of the way to let Perry in. You have to look quick because it happens pretty fast. Kilo 9/30/2018.
Casual Male We see Perry in his pajamas when Paul calls, and in a "casual dress" scene in his office with his dress shirt collar unbuttoned at his neck and without a tie. jfh 02Feb2017.
New music? It sounds to me as if the music of the closing credits has been re-orchestrated. Submitted by 10yearoldfan, 10 January 2015.
+ Yes, it is slower, less syncopated, and heavier on the strings. Not good. Submitted by catyron, June 22, 2018
This story had many of the same elements seen in #152 TCOT Promoter's Pillbox. Submitted by H. Mason 4/12/15
During their testimony neither Coley Barnes or Howard Stark mentioned that Paul Drake was with them when they entered the apartment of Anthony Fry. Submitted by H. Mason 4/12/15
+ I noticed that too and wondered about it at the time. Submitted by catyron, June 22, 2018
When Paul, etal, bust in the apartment door to discover the body of Tony Fry take a look at the ceiling. It appears to be some kind of cloth fabric stretched tight to simulate a solid ceiling but the wrinkles give it away. Kilo 9/30/2018.
+ The room appears to be a "viewing room", perhaps the fabric on the ceiling is for the accoustics. jfh 20Feb2019.
Interior sets rarely have ceilings to allow for lighting. Scrims are used to simulate ceilings as needed. The use here is indeed sloppy.
The direction of the courtroom sequence is especially effective, with several dramatic angles, closeups, and some subtle zooms and dolly shots. DOD 02/20/19
+The Twilight Zone Companion - the kind of well-researched guide PM fans yearn for - offers this amusing anecdote about the episode "On Thursday We Leave For Home"(which featured a rising pull-back shot): "Let's get a ladder in here and see how it looks." When they did, they got a shock - none of the shacks had roofs! Relayed by Notcom, 070519.
Why was Kathy trying to get the film back? She hadn't taken any pictures with the new roll. If there had been exposures Burger would have introduced them in court. Kilo 4/1/2020. Also, the picture that Kathy does take at the airport, she has already given to Drake. Why does it turn up in Fry's apartment? Steven Blackwood 05/26/2022
+ The picture was in an envelope under Tony Fry's body. During their struggle, Kathy had thrown her handbag at Tony, the photograph must've fallen out her bag onto the floor, and Tony fell on top of it. jfh 26Nov2022

'Extremely Creepy''' Perry somehow gets access to the hotel room of a young woman he doesn't know, and sits in the dark, silently, waiting for her to arrive - why not at least turn on the lights? Or speak to her as soon as she walked in? Would have scared her to death, for no reason. Bella Della 25 April 2021
<< Place Called Midnight | Episodes | Reckless Rockhound >>