Show82
<< Frantic Flyer | Episodes | Prudent Prosecutor >>
#82: The Case of the
Wayward Wife
Original Airdate: 01/23/60
From The Perry Mason TV Show Book
Oh, the perils of book publishing! Ben Sutton is listed as the author of the best-seller Ordeal, a book describing his experiences in a Korean prisoner-of-war camp. Sutton is already in deep with a blackmailer over the true authorship when the real author is released from an army hospital. Sutton is slain before he can tell the truth, and his widow arrested for the murder. When Perry takes the case, his first job is to find out who else knew that Sutton was a fraud.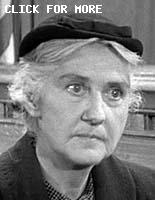 Opening
Starring Raymond Burr
in The Case of THE WAYWARD WIFE
Based upon characters created by Erle Stanley Gardner
Barbara Hale as Della Street
William Hopper as Paul Drake
William Talman as Hamilton Burger
Ray Collins as Lt. Tragg
Trailing
Directed by Walter Grauman
Written by William O'Farrell
Herbert Hirschman | Producer
Gail Patrick Jackson | Executive Producer
Seeleg Lester | Associate Producer, Story Consultant
Produced by The CBS Television Network in association with Paisano Productions
Arthur Marks | Associate Producer
Raymond Burr as Perry Mason
Barbara Hale as Della Street
William Hopper as Paul Drake
William Talman as Hamilton Burger
Ray Collins as Lt. Tragg
Cast
Marshall Thompson as Arthur Poe
Bethel Leslie as Sylvia Sutton
Frank Maxwell as Harry Scott Wilson
Madlyn Rhue as Marian Ames
Alex Davion as Gilbert Ames
Richard Shannon as Ben Sutton
I. Stanford Jolley as Alan Kirby
Kenneth R. MacDonald as Judge
Kathleen Mulqueen as Miss Croft
Law Green as Autopsy Surgeon
George E. Stone as Court Clerk
Peter Hayman as Clerk (Bookstore)
Irving Steinberg as Cabbie
Craig Duncan as Sgt. Townley
Crew
Art Seid, A.C.E. | Assistant to the Producer
Production Supervisor … Dewey Starkey
Director of Photography … Frank Redman, A.S.C.
Art Direction … Lewis Creber
Assistant Director … Robert G. Stone
Film Editor … Richard H. Cahoon, A.C.E.
Casting … Harvey Clermont
Makeup … Irving Pringle
Hair Stylist … Annabell, S.C.H.
Wardrobe Supervision … William Zacha, Evelyn Carruth
Set Decoration … Charles Q. Vassar
Sound Effects Editor … Gene Eliot, M.P.S.E.
Music Editor … Gene Feldman
Properties … Ray Thompson
Production Sound Mixer … Herman Lewis
Script Supervision … M.E.M. Gibsone
Sound … Glen Glenn Sound Co.
Perry Mason \ A Film Presentation
A CBS Television Network Production
Location: A lot of the early Perry's simply use the real thing. In this episode, Arthur Poe is supposed to be at the Veterans Hospital and, in fact, that is where he is…the Veteran's Hospital Center in West Los Angeles. I went over this afternoon and took pictures of the two buildings used. Due to pine trees, I needed to take the photos off center so that you can see the details that the trees would block if I took them from where the camera actually was. Submitted by Eric Cooper, 1/9/2009. Pictures here.
Location: The bookstore where Poe sees Sutton's book is Martindale's (part of the name is visible in the window and the entire name can be seen later in the scene). This was a popular bookstore in LA at the time (they had a branch in Phoenix where I occasionally shopped in this time period). BobH, 6/19/09.
+ Martindale's was at 9477 Santa Monica Blvd. Submitted by billp, 29 October 2009.
+ Correction: The location of this Martindale's Bookstore was 1418 Santa Monica Mall (now 3rd Street Promenade) in Santa Monica. You can see the number 1418 above the store's entrance.
Marshall Thompson makes his only appearance on Perry here as Arthur Poe. Thompson was probably best known as the star of the 60s television show Daktari, for two years playing Dr. Marsh Tracy. Submitted by PaulDrake 33, 15 September 2009.
+ I remember Marshall Thompson as "Gunther Wyckoff" in Dial 1119 (1950) alongside Virginia Field, William Conrad, Leon Ames, Andrea King. jfh 12Sep2023
As a change of pace, George E. Stone, the Court Clerk, gets a couple of lines in this episode. He reads a deposition. Submitted by PaulDrake 33, 28 October 2009.
+ Technically the item read by the Court Clerk was an affidavit. ;-) Submitted by HamBurger, 8/23/2019
Location: Another example of a location in plain sight occurs 15 minutes into this episode. Silvia Sutton parks on the corner of 1100 N. Seward and 6600 W. Eleanor in Los Angeles to call for a taxi. She is actually in fact on that very corner. The inside joke is that she is also just a few feet outside what was then General Services Studio where Perry Mason was shot for a few years. It still exists today as Hollywood Center Studios. See Trivia on Artful Dodger episode #78 for more info. Submitted by Eric Cooper, 27 January 2010. Some pictures here.

Location: The street exterior shown right after the book store sequence is in the Broadway Theater and Entertainment District in Downtown LA. The vertical sign for the Lost Angeles Theater (615 S. Broadway) is visible to the left. On the right, just to the right of the lamppost, you can see the last few letters of the Palace Theater vertical sign (630 S. Broadway). Both theaters are still standing. Swelldom Department Store (6th and Broadway) is barely visible just past the Los Angeles. For a 1938 view from a somewhat similar angle, see http://cinematreasures.org/theaters/5/photos/215535 OldDave, 9/7/2020
Sightings: The Little Old Lady in a Hat sits in the back of the courtroom gallery, while Distinguished Lady #2 looks intently on from the front row. Submitted by gracep, 9/23/2010.
+ Distinguished Gentleman #2 is also watching the hearing unfold, along with Quiet Old Man (#1). Way in the back one can see "Miss Carmody" (sometimes). Submitted by gracenote, 9/7/2011.
Double Take: At about 42 minutes on the DVD, when the spooky sister-in-law is on the stand, she is also in the gallery. JohnK, 12 November 2017
This episode filmed 11/3, 11/6-11/10, and 11/13 1959 (for 7 days). The script is marked episode #93. I am not familiar with the episode but a house located at 355 Las Palmas was used. The actor James Coburn was interviewed and considered for the part that went to Marshall Thompson. Submitted by DrKimble, 12 February 2011.
CARS. (1) Sylvia Sutton's medium color 1959 Ford Fairlane 500 Galaxie Sunliner, black softtop up, Lic No PYH 384.
Sylvia's Sunliner is the softtop version of Perry's "retractable hardtop" Skyliner. Prices: Custom 300 2Dr Sedan $2219, Sunliner $2839, Skyliner $3346. Added by Gary Woloski 6/25/12.
Frank Maxwell was president of the AFTRA union from 1984-1989...MikeM. 7/25/2016
Visible Crew: At approximately 20:30, yet another instance of a crew member off-set grabbing the outer knob of the side door of Perry's office in an effort to pull the door closed. In this case, Paul is leaving Perry's office and the phantom hand is visible reaching for the knob just before the door closes. This also happens in numerous other episodes, including Episode #4 TCOT Drowning Duck, Episode #30 TCOT Screaming Woman, and Episode #74 TCOT Startled Stallion. Submitted by Dan K, 10/31/16.
This is the only PM appearance for Madlyn Rhue, who would later do four episodes of Ironside...MikeM. 10/31/2016
This is the third (and final) appearance of Bethel Leslie. As was true of many others who had a handful of appearances, in each case she played basically the same character: an unhappy women, in a seemingly loveless marriage, who is accused of murdering her husband. A few months after her appearance here, she would star along with Frank Overton in Child's Play the second episode of the Bosis Karloff series Thriller; there she would portray...yes...an unhappy woman trapped in a seemingly loveless marriage (she somehow avoids murder - no small feat, as her spouse in CP makes the PM characters warm and cuddly by comparison - but is no happier...if she so much as smiled in any of these four appearances it ended up on the cutting room floor). Submitted by Notcom, 110116.
This is the second of two PM directing credits for prolific television director Walter Grauman, who passed in Los Angeles in 2015 at the age of 93...MikeM. 7/31/2017
Location: This is certainly a location-rich episode. The motel, supposedly in Palm Springs, where Silvia Sutton goes to think things over is not identified by name, but as she gets into her car to leave, there is a glimpse of a station wagon parked near the office with three words lettered on it: "(illegible) SANDS Motel." Submitted by catyron, 11/20/2017.
Music cues: There are numerous ominous music cues by Bernard Hermann in this episode. I don't know the names of these pieces, but they fall into the set that Hermann first composed for the 1951 movie "On Dangerous Ground" starring Ida Lupino and Robert Ryan, and then reused for the opening theme and incidental cues in the 1957 "Have Gun Will Travel" series starring Richard Boone. Submitted by catyron, 11/20/2017.
Comments

Edit
After playing a Korean War veteran on PM, Marshall Thompson went on to direct and star in a movie about the Vietnam War. The film, A Yank in Vietnam (1964), was filmed in Vietnam. The co-star was Vietnamese actress Kieu Chinh. She would later play a Korean woman in MASH, the television series about the Korean War. Submitted by MikeM, 1/08/2013
Also a rare episode in which the defendant had the good sense to NOT handle the murder weapon.
Did Sylvia take a cab all the way from Palm Springs?
How did the Ames' afford such a swank apartment? Surely not from selling those dreadful paintings. DOD 08/23/19
+ Since his sister, Sylvia, was the beneficiary of a trust fund, it wouldn't be altogether unreasonable that it was shared by her brother, Gilbert, or that he was the beneficiary of his own. Just a guess, of course. jfh 07Sep2020
++ Since Sylvia drove her own car to Palm Springs, she likely drove herself back to a nearby location, then called a cab to take her the rest of the way home so her car wouldn't be seen. When she gets back in the cab, she tells the cabbie to take her "back to Seward Avenue."
> Yes: tho the scene was presumably excised in syndicated versions, Sylvia is shown driving to the cab stand (in fact before getting out she makes use of the visor mirror to apply her "disguise"). Notcom, 020322.
Sylvia and her brother paid all the hospital bills for Mrs. Kirby. They paid for her surgery and sent her money every month! They did everything except tell the police one of them drove the car that struck the woman. Why were they paying blackmail? Submitted by H. Mason 10/27/14
Mrs Kirby's affidavit makes clear she knew who drove the car. She apparently was satisfied with the financial arrangement and had no interest in notifying the police - seems to me that would be enough to clear the Ames'. DOD 08/23/19
Failure to report an injury-accident is a crime. That plot point did not make sense to me either. They had already done everything to 'make it right' to the victim. Additionally, it seemed that the victim was partially at fault too, for dodging out into the street from between two cars. That is partially what the law is for--to ensure victims are compensated for their loss. Certainly a good lawyer could have cleared things up for them. A prosecutor might have a hard time getting a conviction, considering the circumstances, and the fact that the victim didn't bother bringing the crime to them either. And blackmail is a crime too, add to that, the blackmailer might also be considered an 'accessory after the fact' in helping to hide it. The prosecutor might have better luck going after the blackmailer. --yelocab 30DEC18
Of the 7,109 American POWs held in Korea, app. 3,000 Died in Captivity, a 43% Mortality Rate, according to cyberussr.com. Mike Bedard 7.18.16

Was Sylvia acquitted just because Harry said he didn't do it?

This may be the only episode of the entire series where the killer, although identified, is not Arrested. Mason meets privately with the killer, gets a confession, then tells Lt. Tragg (standing in the doorway) that it was self defense. Submitted by Bill-W2XOY.
"Fan Dancer's Horse" ends with Perry's client acquitted but the actual killer only speculatively identified. DOD 09/21/21
As much as I initially sympathized with Arthur Poe, war hero and victim, he repelled me by the end. His journal depicted him as a warm, compassionate, decent man of courage--yet he sat by, after killing in self-defense and while knowing his time was up anyway, and let Sylvia Sutton suffer through being tried for murder! Sure, he wasn't going to let her be convicted...he says. Ugh. Submitted by JazzBaby, 8/23/2019.
Or WAS it ?? As noted above, both Perry and Tragg seem content to "let it go", presumably based more on Poe's terminal condition than on the (rather self serving) claim of self defense, but in the absence of the former would they - or should they - have been so blase ?? The limits of "self-defense" are currently in the news, and one of the basic precepts is that one cannot claim self-defense if they initiated the conflict: Poe admitted he had violently assaulted the victim, when he later returned and the latter pulled a gun on him, wouldn't that be self -defense ?? Topically, Notcom 090720.
<< Frantic Flyer | Episodes | Prudent Prosecutor >>